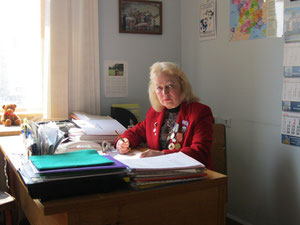 Вітаємо Вас на сторінці Міжнародної Благодійної Організації "Діти-інвалиди-Чорнобиля"!
Ми, неприбуткова організація, яка існує вже впродовж 20 років. З метою спільних довгострокових програм та одноразових проектів Фонд співпрацював із організаціями з Франції, Італії, Німеччини, Австрії, Кіпру, Австралії, що допомогли:
- в лікуванні 30 онкохворих дітей (врятованих життів)
- в оздоровленні в Україні 4500 та за кордоном понад 12000 дітей
Враховуючи те, що ми є Фондом що спрямовує зусилля на допомогу НАШИМ дітям, просимо й Вас не залишитись байдужим та надати за можливістю допомогу.
Діти без батьків, діти-інваліди потребують допомоги, саме вони - наше майбутнє!
You are Welcome on the page of International Charitable Foundation "Children-Chernob'yls invalides"
We are unprofitable organization which exists already during 20 years. With the purpose of the common long-term|long term| programs and single projects Fund co-operated with organizations from France, Italy, Germany, Austria, Cyprus, Australia, that helped:
- in treatment 30 oncologic-sick children (rescued lives)
- in making healthy in Ukraine 4500 and abroad more than 12000 children
Taking into account that we are| Fund that directs effort for help OUR children, ask and you not to remain indifferent and give a help in Your possibility.
Children's without parents|father|, children-invalids need help, exactly they are too our future!
Besides, thank you very much for attention to the Chernobyl's theme. For us, who directly outlived this catastrophe on the 4th block of Chernobyl AES, evacuation of their Pripyat and Polesskaya earth, very much means Your desire to remind humanity of tragedy of Chernobyl.
With 1989 People as victim from a failure in Chernobyl entrusted to me to lead a relief Chernobyl children|kids| fund. In times of activity of fund the row of humanitarian projects was carried out, including given a help oncologic diseased children|kids|, both on Ukraine and abroad. About 15 thousand children|kids| making healthy (rehabilitation) due to eleemosynary|charitable| facilities both in Ukraine and abroad (most of them in Germany, Italy, France). Usually, children live in international family. Constantly the program of help needing families works under a motto «Family - in family» and row of other programs.
Important in our partnership is to protect a health of children is in environmental (natural) conditions. We are ready and glad to work together, although. Certainly|of course|, we want|wish| to offer to you a joint collaboration in the plan of making healthy, rest and|but| can and rehabilitations of Chernobyl children|kids| in Your countrty if it is possible. I ask you more detailed to tell: when, for|after| whose account|counting|, on what terms possibly program beginning|origin|. Who will prepay the transport charges?If You have any more question about Fund or Chernobyl tragedy, we will try to answer (preferably - Ukranian,Russian language).
Valentina Kolesnikova
The President of international charitable Fund  
"CHILDREN–CHERNOBYL'S INVALIDES"
02121, Kyiv, st.Verbitskiy 11, of.469 
Tel 38 (044) 564 43 89, mob. 38 (050) 44чотири 62 22
e-mail: vkolesnikova ( ) ukr.net